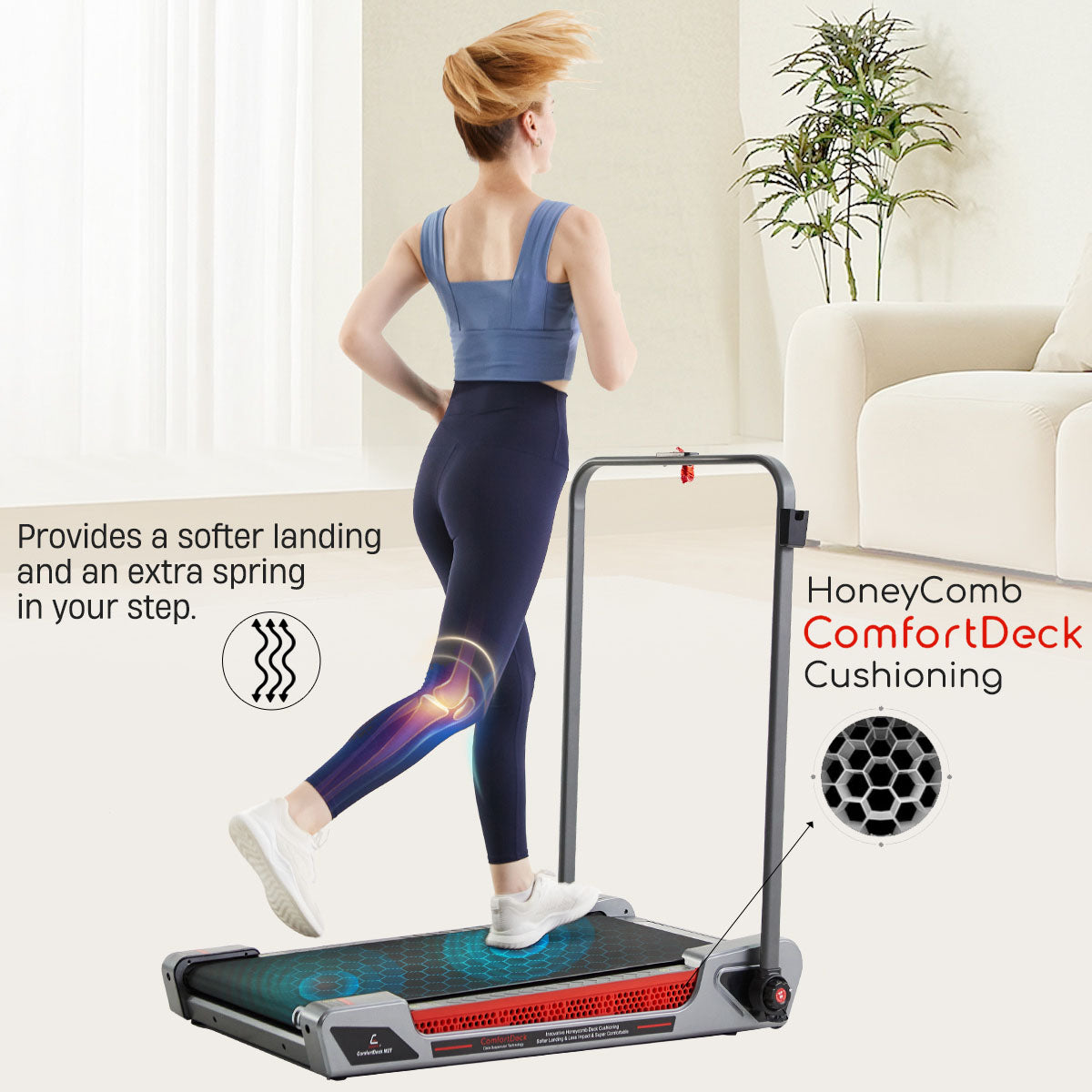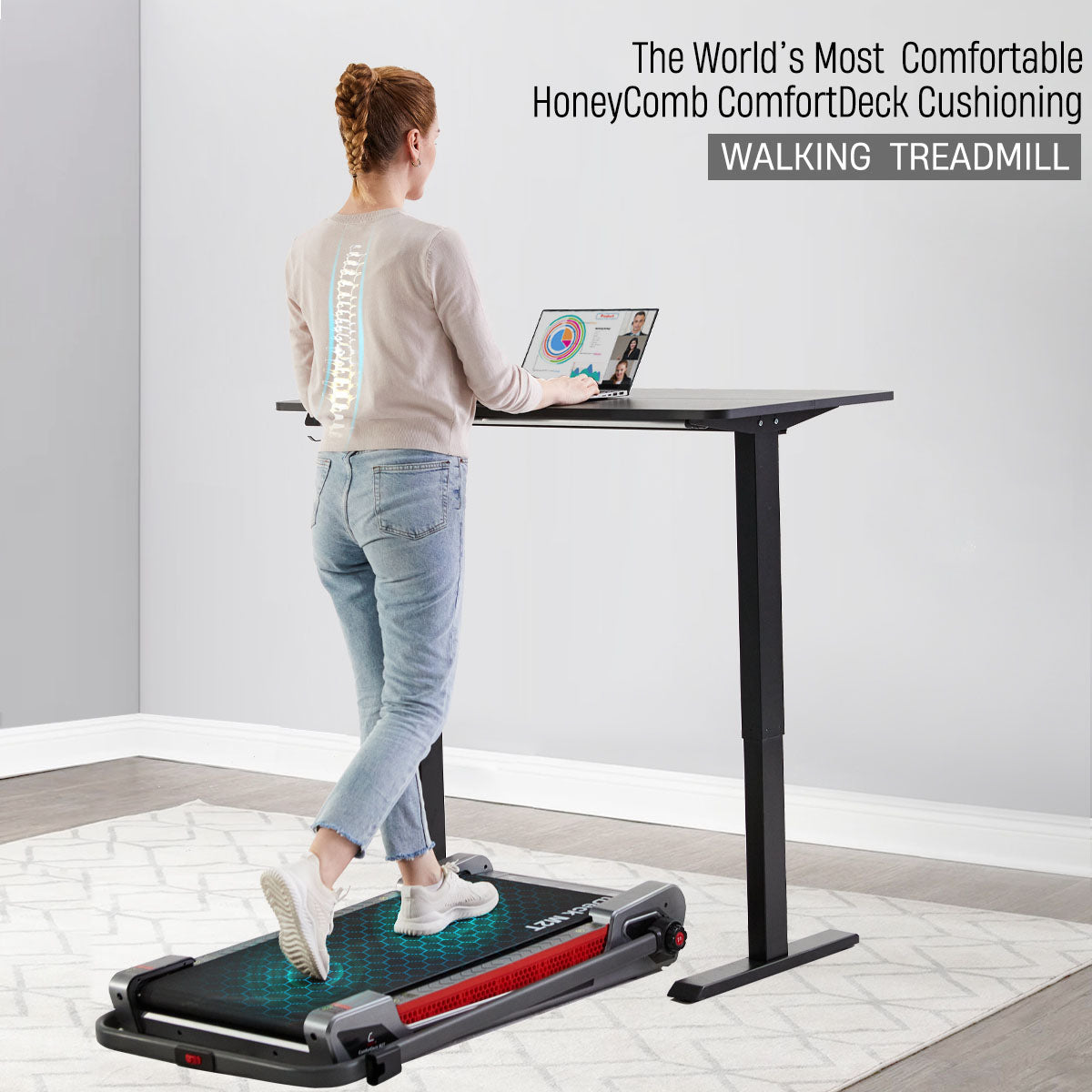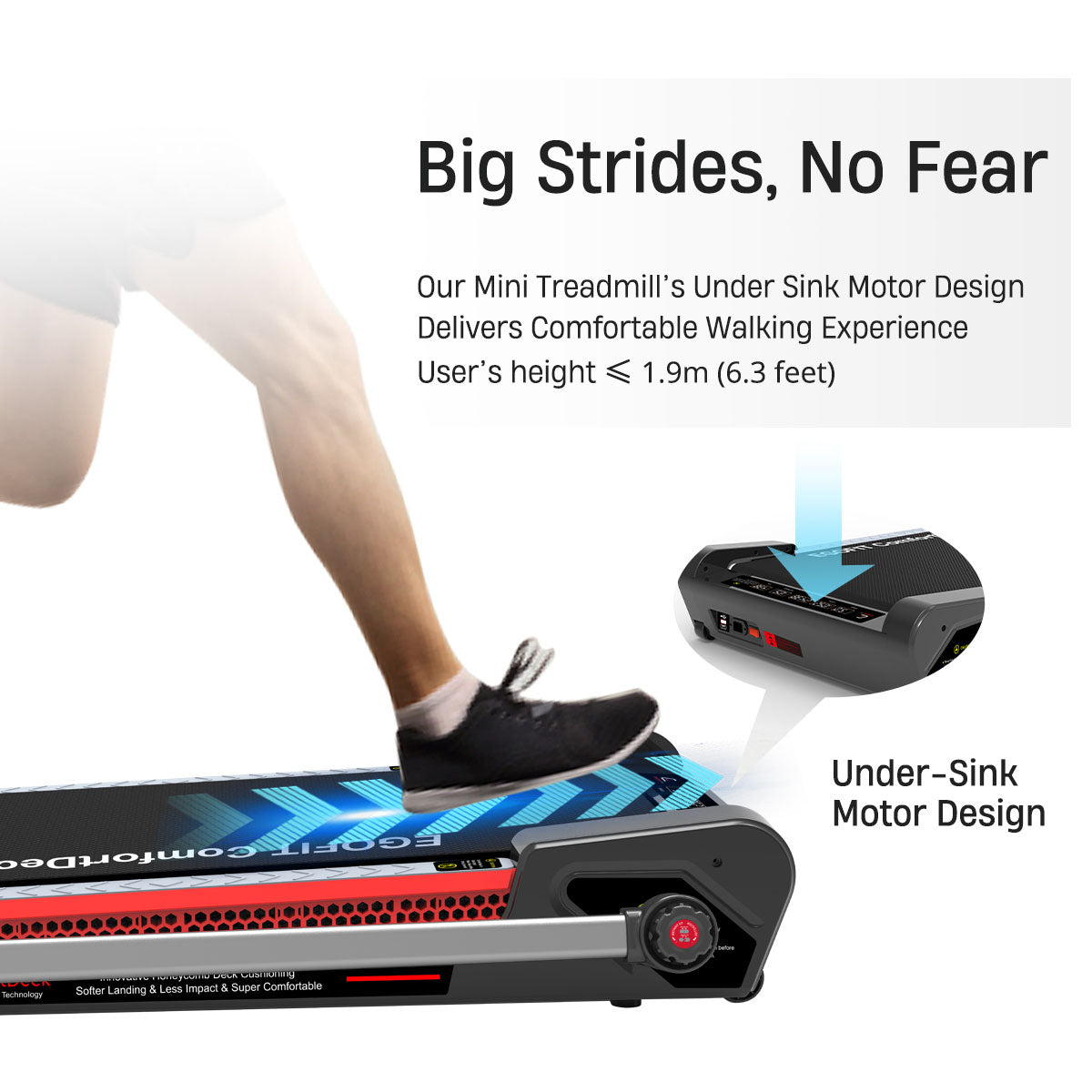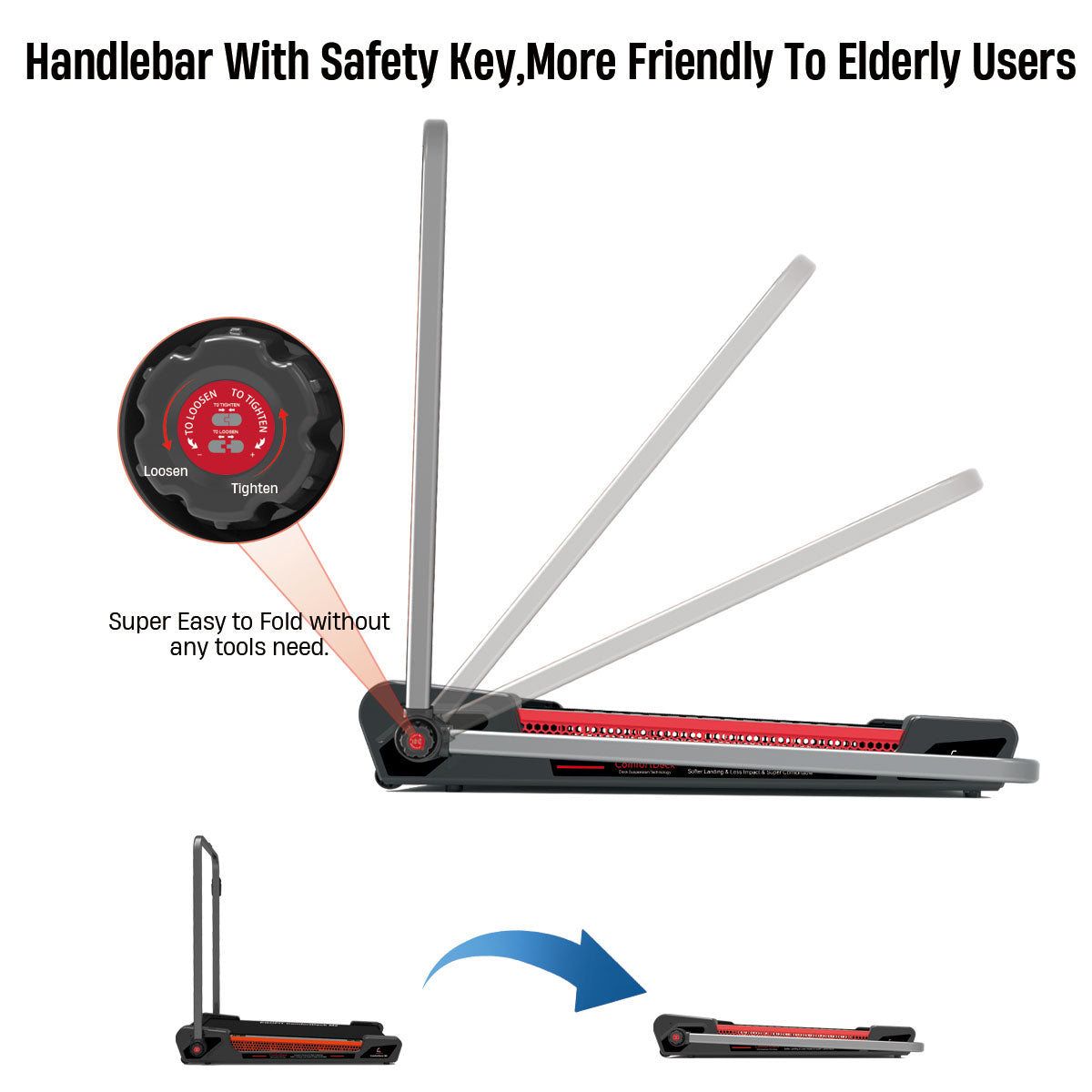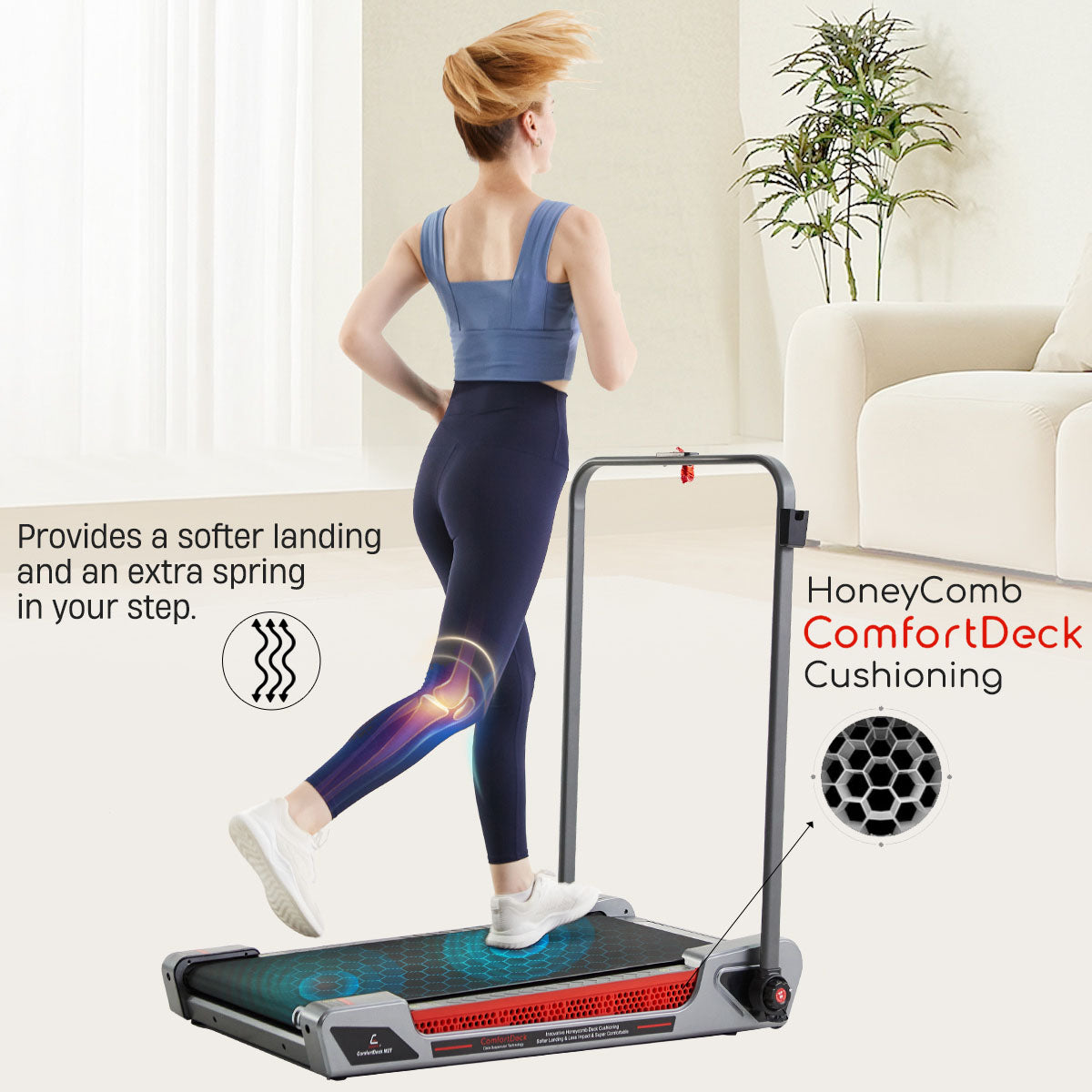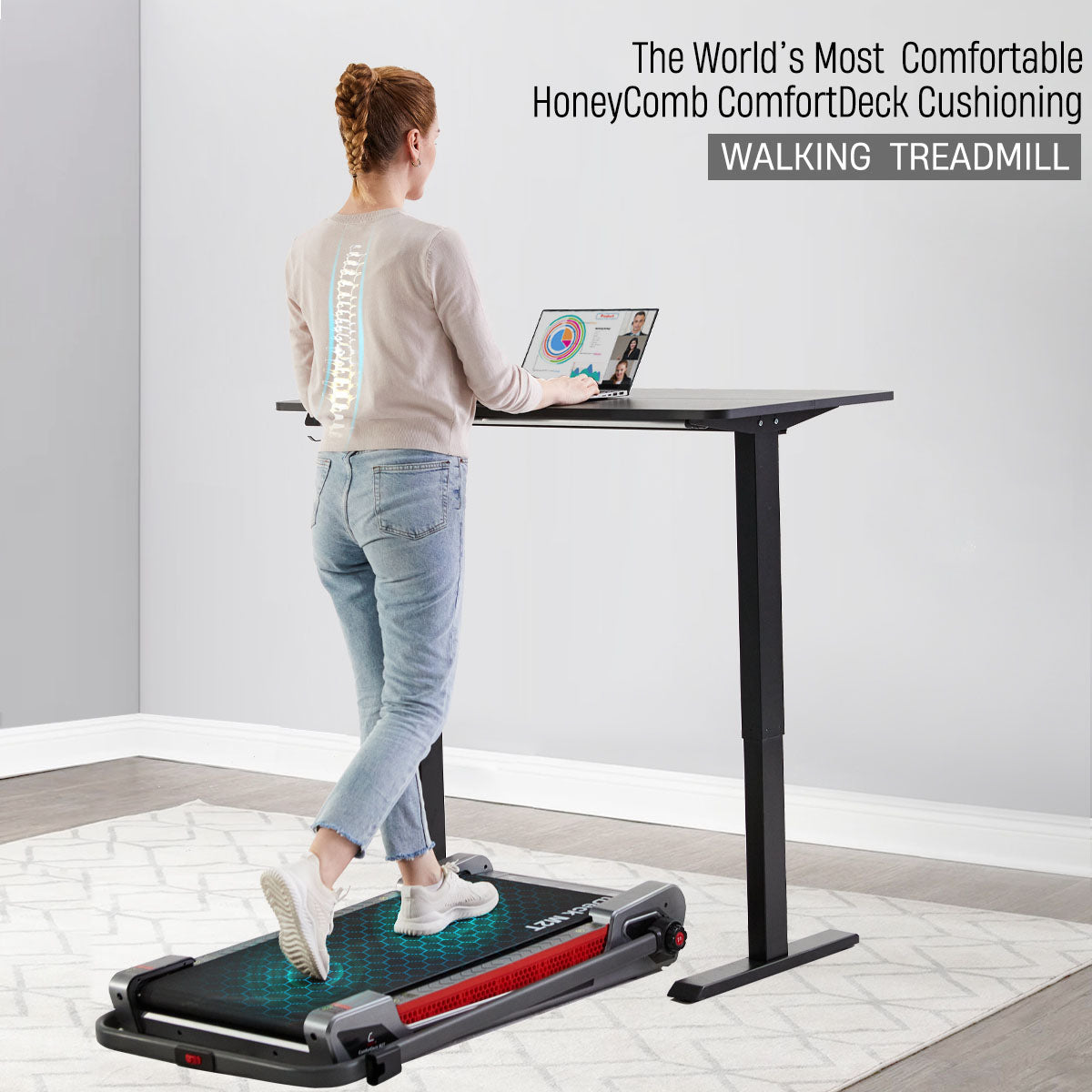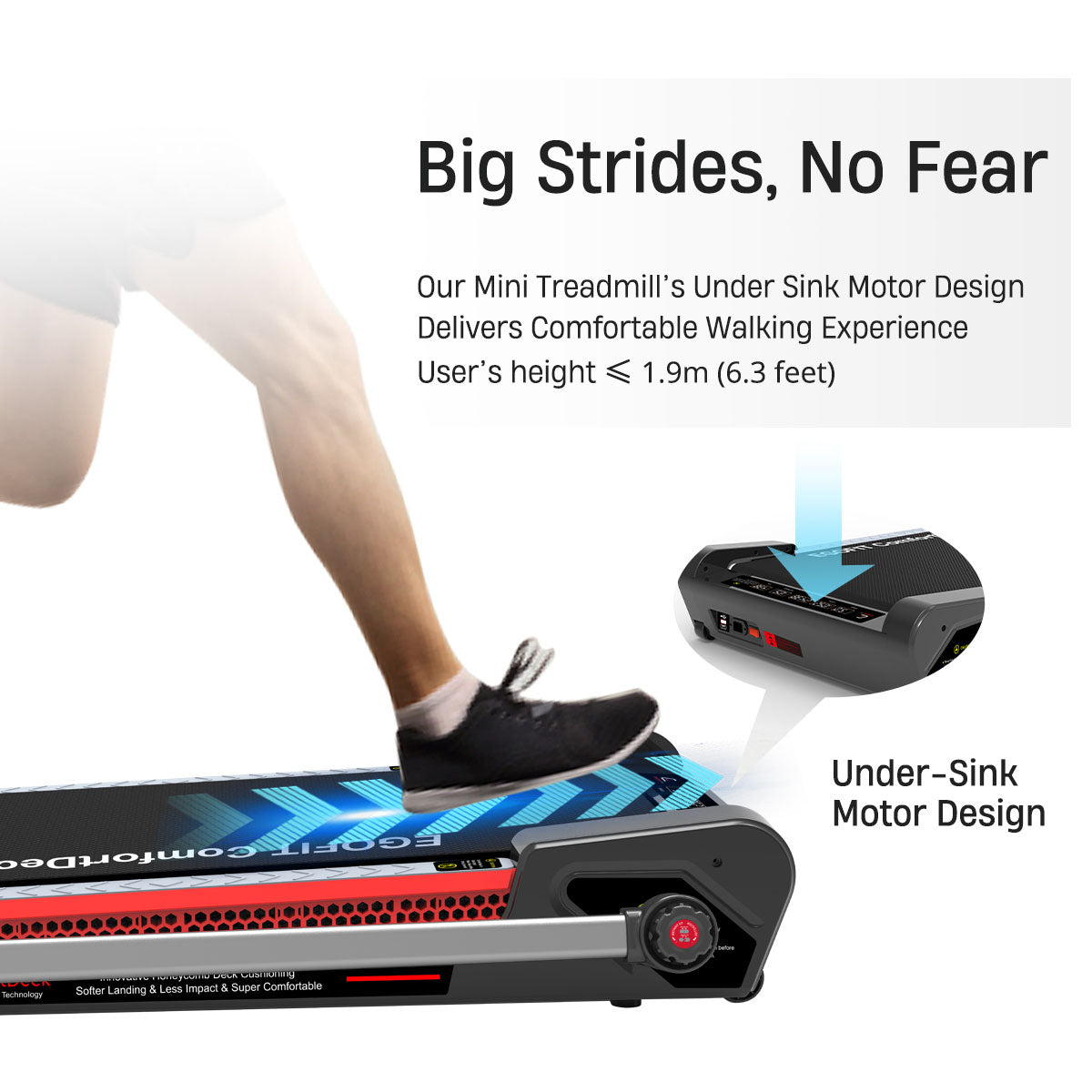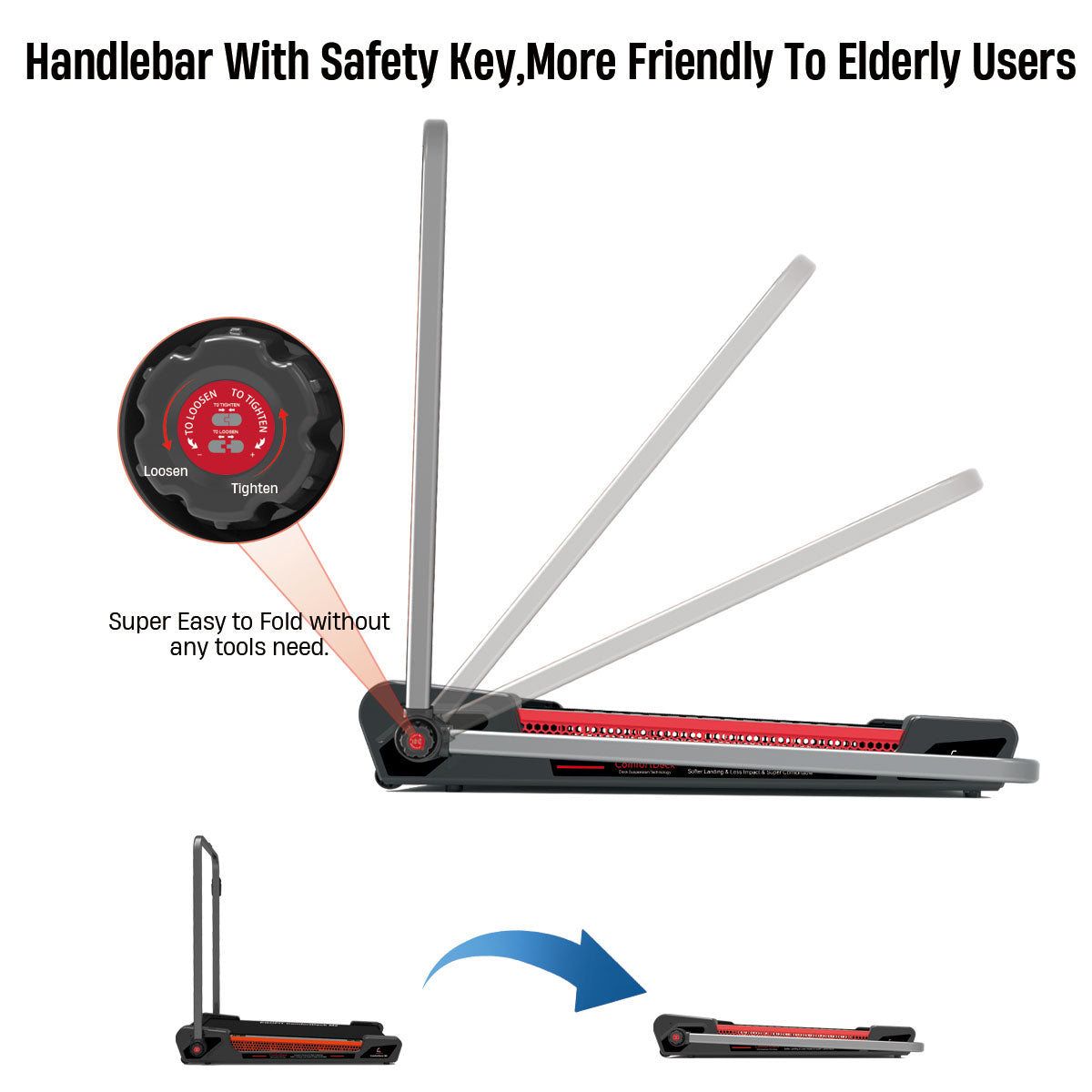 Sale price
$559.00
Regular price
$659.00
Estimated Delivery:Dec 11 - Dec 15

Free Shipping: On all USA orders over $100
Guarantee safe & secure checkout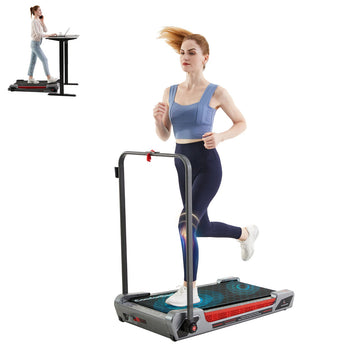 EGOFIT ComfortDeck-M2T
Product description
Tech Specations
Looking for a treadmill that is gentle on your joints and easy on your wallet? Look no further than our new Comfort Deck Walking treadmill with honeycomb deck cushioning. This innovative Honey Comb Deck Cushioning reduces the impact of running and walking, while providing a smooth and comfortable workout. Plus, our honey comb cushioning treadmill is not pricy, so you can enjoy the benefits of fitness without breaking the bank. Order yours today and get ready to feel the difference!

The World's

 

Most Comfortable Walking Treadmills, With Innovative honey comb cushioning deck, less impact, noiseless and super comfortable. 
The Perfect

 

Mini Under Deck Treadmill

 

for

 

Standing Desks.
You'll be 10 times healthier with our Cushioning Treadmill Desk, Help you to Achieve your Exercise and Weight Loss Goals every single day, improve your health, build muscle or get more energy at work.
Help you Burn More Calories Fast with 3% Incline, Our Innovative 3% incline design is a great way to increase the intensity of a workout without increasing the time or speed of the workout.
Mini Walkpad Treadmill, Big Strides No Fear,

 

Our Under Sink Motor Design delivers Comfortable Walking Treadmill (users less than 6.3' or 1.9M)

Handlebar with safety key, More friendly to elderly users with handlebar and safety key, a great Home Foldable treadmill for our daily training goal, plus The MAX speed is upgraded from 3.1 mph to 3.7mph when handlebar stand up. 
Motor: DC motor 2.5HP
Max user weight: 245lbs/110KGS
Speed range: 1~6.0kmh/0.62~3.73mph
Walking area size: 920*450mm/ 36.2 *17.7inch

Item dimension: 105.5*69.5*18cm/41.5*27.4*7inch

Item Net Weight: 28.2kgs/62.2lbs

Maneuverable wheels & Fully assembled
Ergonomic Fixed incline 3% help you burn more calories fast.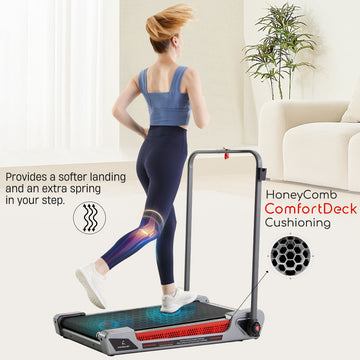 Egofit ComfortDeck M2
The World's Most Comfortable Walking Treadmills, With Innovative honey comb cushioning deck, less impact, noiseless and super comfortable.
The Perfect Mini Under Deck Treadmill for Standing Desks.
Big Strides, No fear!
Our innovaitve under-sink motor design delivers comfortable walking experience to people with big strides, No concerns of the frount motor cover hit your foot.
Avoid Runner's Knee,
Less Impact, Noiseless,
Super Comfortable,
Innovative HoneyComb ComfortDeck Cushioning Walking Treadmill, provides a softer landing and extra spring in your step. Our HoneyComb ComfortDeck is the Gold standard for impact absorption, providing a softer sweet spot for every step and unparalleled support, Designed to simulate the freedom of running on softer surface.
3% incline Treadmill Desk
The Unique 3% incline Walking Treadmill designed to Boost Your Calories Burning Faster.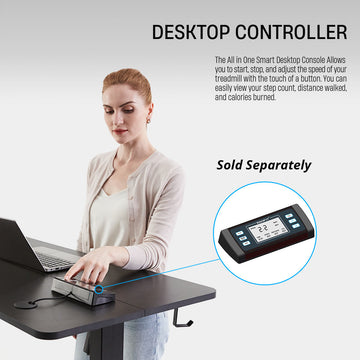 Desktop Smart Console
The all in one smart desktop console allows you to start, stop and adjust the speed of your treadmill with the touch of a button. you can easily view your step count, distance walked, and calories burned.
FAQs
What Is A Cushioned Treadmill?
A cushioned treadmill has a cushioning system in the running deck with shock absorption technology or material. This can allow you to exercise for longer periods of time, and puts less stress on your joints.
How does Honeycomb Deck Cushioning Treadmill works?
Honeycomb cushioning is a shock absorption system that reduces impact and noise on your joints and muscles. It works by using variable durometer elastomers, which are rubber grommets that have different levels of firmness depending on the zone of the deck. The front zone is softer for landing, the middle zone is moderate for transition, and the rear zone is firmer for push-off.
Experience the difference of our new treadmill's honeycomb cushioning. It has variable durometer elastomers that provide optimal cushioning for each phase of your stride. This means you can enjoy a smooth and quiet run while preventing joint and muscle injuries.
Advantages of Egofit Comfort Deck cushioning treadmill?
Our No. 1 goal is to provide a comfortable run and a comfortable walk. Our Comfort Desk treadmill is equipped with cushioning throughout the deck area. So as you walk, jog, or run, your joints will be thanking you. With less stress on your feet, ankles, knees, and hips, you'll be able to enjoy a longer workout
and faster recovery time. It's one reason why people love our Comfort Deck treadmills.
Are You a Runner or Walker?
if you're intending to use your treadmill for walking, or with Standing desk, then a machine with a short belt (35-40 inches long and 18-22 inches wide) could be an ideal Walking treadmill for you. Super compact and effective.
How Often to lubricate my treadmill?
The walking belt comes pre-lubricated from the factory. The treadmills should be lubricated every 3-4 months (regardless of use) or every 50 hours of use.
Treadmill walking belt slips or is off center
If the belt has become off-center, your owner's manual will have instructions on how to re-align it. There are also treadmill troubleshooting instructions such as how to tighten the belt to prevent it from slipping.
 Can I still get work done if I'm working at a treadmill desk?
You can choose your own pace while you use our custom-built desktop to do your work. It takes a slight amount of time to adjust to moving while typing on a computer or writing on paper, but in no time, you'll be able to do it all. There are even a number of studies that show positive benefits to standing at a desk instead of sitting all day, as well as moving your legs while working at a desk to increase productivity and creative thought.
Why won't my treadmill start even though the console display works?
Main causes: missing safety key, if the error code "----" or "E07" showing, means the safety key not mounted correctly, check again and make sure safety key put in place.
Just bought a new treadmill. Should I be concerned about the line on the running belt?
This is Seal line, The process of joining the belt to itself leaves a visible "seal line", indicating where the belt has been joined together. this line are a perfectly normal part of treadmills, All treadmills have something similar and are not a cause for concern, they will not impede the function of the treadmill.
when I turn my treadmill on, I get this read out on the screen "- - - -" or "E07". Do you have any idea what I can do or is it broken?
This Screen error"- - - -" or "E07" showing because of the safety key not detected, check ifthe safety key attached on the handlebar correctly.
Enjoying so far
Got this for my wife and she is loving it.
Easy to use
Easy to use, just plug in and go. Came with oil and remote batteries which was a nice touch!
Delivered via FedEx the package was in great shape
I get nervous ordering large electronics from Amazon because of delivery methods but this came via FedEx and seems to be working great so far.
Helps me get my steps in
Getting my steps in at work has been great. It was a little bigger than I expected but it fits!
BEST-KEPT SECRET IN TREADMILLS!!
I bought this treadmill during the Amazon Prime Days, and it was a little less than the usual price (which is still worth every penny for what you get!) Here is what I love about this treadmill:
1.) So far - and I've been using it pretty regularly for a few weeks since purchase - it has functioned as promised. It inclines (so far I'm only using the 2 setting) and increases speed - apparently by 2 digits each time (so be aware of that; if you click twice you'll go up 4 digits in speed!) One click of the remote will bring you from 0.6 which is the starting speed - to 0.8. I'm not sure how fast it goes; so far I'm only on 2.6 in speed.
2.) Because it has no guardrail/bars, you get a stronger workout than at the gym where you can hold on to the bars. This is an even better workout than I get from my fast walks outside and has now become my preferred cardio workout. Never fail to break a serious sweat on this. And I feel every bit of the workout in my legs, hips and arms. I swear I'm already losing inches on it!
3.) It does take a little getting used to in terms of balance because there are no bars. If you have any issues with balance, put it next to something you can grab or hold onto if you start to fall or get dizzy. I have an autoimmune issue that causes balance problems, but I took it slower for the first day or so to acclimate to it. I do think the incline helps since you are leaning forward naturally when on an incline.
4.) The remote takes some getting used to in terms of remembering how to power down speed or kick it up a notch. If you get the remote turned around you'll find yourself wondering why it's not working, lol! The wrist band should be at the bottom; there is an instructional guide with the machine. There is no "off" button- just clicking the "on" button again will "pause" it and hitting it for a longer time stops the machine completely. For those who struggle with balance (like me, see #3), I would suggest lowering the speed at the end of your workout until you get it to the entry speed of 0.6, then pause or stop it completely. That helps with balance in my experience, so I'm not going from a fast moving position to standing absolutely still on it suddenly.
5.) So far, all of the digital display works correctly. Once I "End" the session (see above for stopping the machine), I turn the machine "off" (there is a switch to turn it on and off but it won't start the treadmill by itself. You need the remote for the belt to move). Then I unplug it when the display goes dark.
6.) Praying this machine lasts a very long time! I did a LOT of research on home treadmills to find what I was looking for - and VERY FEW offer an automatic incline like this one does. When they do, it's usually MUCH MORE $$. This is a rare gem!! I would buy it again in a heartbeat!!
Amazing!
I've been waiting to order one of these for a while. I got this one because it also inclines. It's small but feels very sturdy. 10/10!
Good Product
I needed something new to use at home since my elliptical stopped working. I wanted something not as big as a regular treadmill, but still offered some sort of incline. The box was heavy. Lucky for me I had help to bring it to the 2nd level. However, the actual walking pad is much lighter unpacked. Very easy to assemble...just plug it into the machine and the wall socket. Inwas skeptical about the speed only going to 4mph (I truly was over estimating myself lol). I definitely got to sweating at 1.7 mph with the incline on 2 for 50min. It is sturdy. The length and width are perfect. I can tuck this away easily after finishing. It comes with a small remote that is magnetic and sticks to the pad. Glad, so I don't have to keep up with it. I think this has been a good decision and piece of equipment for the price.
This thing rocks
already walked 10k. no smells. no issues. works as expected
work and workout
The Incline Under Desk Treadmill is a game-changer for my workday! It seamlessly combines productivity and fitness. This treadmill allows me to stay active while working, helping me maintain focus and energy. The quality and design are top-notch, making it a reliable addition to my home office. A must-have for anyone seeking a healthier and more productive lifestyle!
Works great
Works great and is quiet. Able to do it while I work from home. Easy to set up and get started.
MADE BY US, SHARED BY YOU
Tag
@Egofit
in your Instagram photos for a chance to be featured here.
Find more inspiration on
our Instagram.